Coming Soon: myUF Marketplace
Coming Soon: myUF Marketplace
Overview
In the fall of 2019, UF will introduce a new single procure-to-pay system designed to streamline processes for our faculty and staff. A joint initiative of the Division of Finance and Accounting and UF Procurement Services, myUF Marketplace will streamline processes currently completed via two systems, myUF Market and myUF Payment Solutions (MPS), into one integrated solution.
On Oct. 1 and 22, 2018, representatives from throughout the university were invited to participate in focus groups to provide information and feedback to inform the development of myUF Marketplace. Current state, future state and demo discussion sessions were held, and representatives were invited to take information about the new system back to their departments to gather further feedback.
Focus Groups
Representatives from the following areas participated in the October 2018 focus groups.
Business Services Division
College of the Arts
College of Dentistry
College of Education
College of Health and Human Performance
College of Journalism and Communications
College of Law
College of Liberal Arts and Sciences
College of Medicine
College of Nursing
College of Pharmacy
College of Planning, Design & Construction
College of Public Health and Health Professions
College of Veterinary Medicine
Contracts and Grants
Facilities Services
Herbert Wertheim College of Engineering
IFAS
Wayne Reitz Union
Office of the Chief Financial Officer
Office of the Provost
Office of Research
Student Health Care Center
University Housing
University Registrar
Warrington College of Business
As the project evolves over the coming months, we will continue to provide further information and resources via this website.
Timeline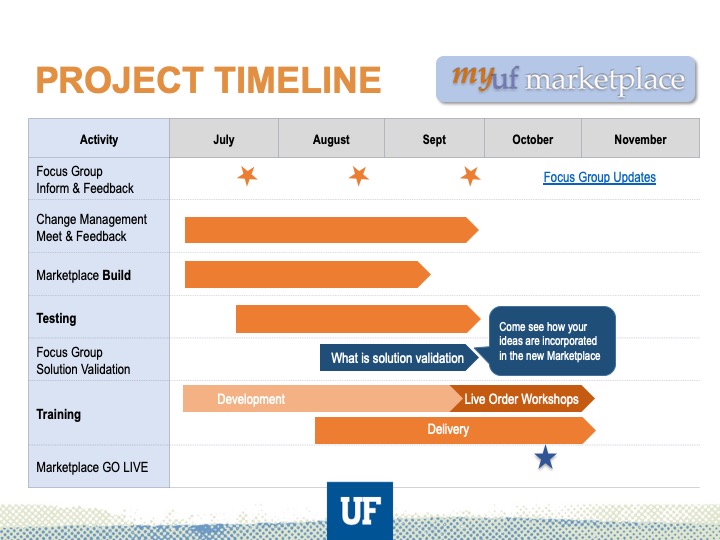 Roles/Training
You can begin preparing for the transition today!
If you currently have the UF_N_MKT_REQUESTOR or UF_N_MKT_FINANCIAL_APPROVER role for the UFMarket, you will not need to request any new roles.
If not, you will need to have your DSA request one of the roles as follows:
Approver for AP: Request UF_N_MKT_REQUESTOR
Supervisor Approver for AP: Request UF_N_MKT_FINANCIAL_APPROVER
Training is being developed and you should plan on taking/re-taking all classes for the new myUF MarketPlace once it is made available.
If you having any questions, please feel free to email myUFMarketplace@ufl.edu for assistance.
Department Supervisor Approver
Current user profiles from the myUF Payment Solutions system (UF_AP_APPROVER) will be loaded into the myUF MarketPlace. This process will establish the first-level department approvers. We need your unit to identify a second-level approver for unencumbered transactions. In case it is helpful, a listing of current myUF Market Financial Approvers is provided:
UF_N_MKT_FINANCIAL_APPROVER_LIST
Use the spreadsheet on the link below to provide the Marketplace second level approver. Please fill out the spreadsheet for all deptIDs or range of deptIDs for your areas of responsibility. Whenever possible, please provide two names, so there is coverage in case someone is out. If you will not be approving transactions in the Accounts Payable system, please forward this to the responsible person in your area. DeptIDs can have more than one supervisor. As a reminder, here's a guide to assist you in determining who should be the approver for your department can be found at: http://identity.it.ufl.edu/identity-coordination/coordination-roles/who-should-be-the-approver/.
myUF MarketPlace Department Supervisor Approval Form
Please complete and return to myUFMarketplace@ufl.edu by September 6th.
If you having any questions, please feel free to email myUFMarketplace@ufl.edu for assistance.
Last Revised
8/23/2019: updated content
Contacts
Disbursements: (352) 392-1241