Past Due Accounts
Past Due Accounts
Overview
Past due accounts are charges that are unpaid by the due date.  As a result of a past due account, UF may temporarily suspend further academic progress that may impact the student's university record or future university services. Students must continually monitor their UF email and student account information to ensure tuition and fees, charges, and fines are paid in a timely manner.
Past due accounts may be reported to the major credit reporting agencies and/or placed with a collection agency with additional collection costs added, increasing the amount owed.
Types of past due accounts:
Tuition and Fees –

Students who have not paid any portion of their tuition and fees liability by the established university deadline may have their course registration cancelled.  Students who have been cancelled for non-payment of fees will not be allowed to attend these courses until arrangements have been made to make payment and the student has been re-registered for courses.  Students who re-register after being cancelled for non-payment of current term fees will be subject to both late registration and late payment fees.

Non-Tuition Charges – Unpaid charges may be assessed late fees according to the originating department's policy
Loans – Past due loans are assessed late penalty fees, collection costs and litigation fees. Loans past due 30 days or more will affect a student's ability to receive additional aid.
Holds
Holds, also known as negative service indicators, restrict access to university services. A hold placed on the student's account may prevent the receipt of grades, transcripts, diploma or admission to athletic events, and registration will be denied for future terms.
Holds are viewable in ONE.UF:
Action Item Summary (which appears on top of the page)
Click on Holds to view details that will appear on the right side of the page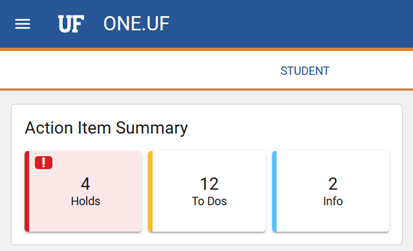 Types of Bursar holds include:
Financial – When a charge is not paid by the due date, a financial hold (negative service indicator) will be placed on a student's account.  Past due charges must be satisfied to receive university services.
Exit Counseling – Loan borrowers separating from the University, applying for graduation or dropping below half-time status are required to complete an online counseling session.
Loan Collection
The Bursar's Collections unit is responsible for collecting UF's Federal Perkins and institutional student loans. The department must follow federal due diligence guidelines which include using university personnel to contact defaulters, reporting accounts to credit bureaus, referring accounts to collection agencies, litigating accounts, and assigning accounts to the Federal Department of Education.
Last Reviewed
3/31/2023: Reviewed content
Contacts
Bursar: (352) 392-0181
Still have a question?