Viewing Supporting Documentation
Viewing Supporting Documentation
Directive Statement
This directive establishes the proper methods of viewing documentation for approved transactions.
Reason for Directive
The purpose of this directive is to ensure adequate documentation exists for all approved transactions.
Who must comply?
All University Departments.
Security Roles
There are certain myUFL security roles needed to enter or view a voucher.  Contact your Department Security Administrator (DSA) to acquire a role.
UF_N_VOUCHER_IMAGING_VIEW is needed by Imaging Department personnel to view vouchers

Contact your DSA or click on "Documents" on the voucher in the myUFL Accounts Payable module

UF_N_MKT_FINANCIAL_APPROVER or UF_N_MKT_REQUESTOR is needed by department personnel
UF_N_VOUCHER_IMAGING_VIEW and UF_FI_UNIVERSAL_INQUIRY is needed by personnel to view images but not input vouchers

Contact your DSA and send an email to myufmarketplace@ufl.edu with the UFID of the employee you are requesting security for and that the users' preferences be set to allow for viewing images
Viewing Supporting Documentation
For vouchers created via myUFMarketplace, the image will available for viewing in myUFL via the "OnBase Document" button located in the voucher.  For vouchers created in myUFL, the image that was attached to the voucher will be displayed under the "Attachment" link.
In myUFL
In myUFL, navigate to Accounts Payable > Add/Update > Regular Entry > Find an Existing Voucher
Enter the voucher ID number
On the invoice information tab, click on the "Documents" button

If images were added via the attachment feature, click on "Attachments" on the invoice information tab

myUFMarketplace
In the UF Marketplace, use the Search feature to select the criteria needed to identify the required invoice population.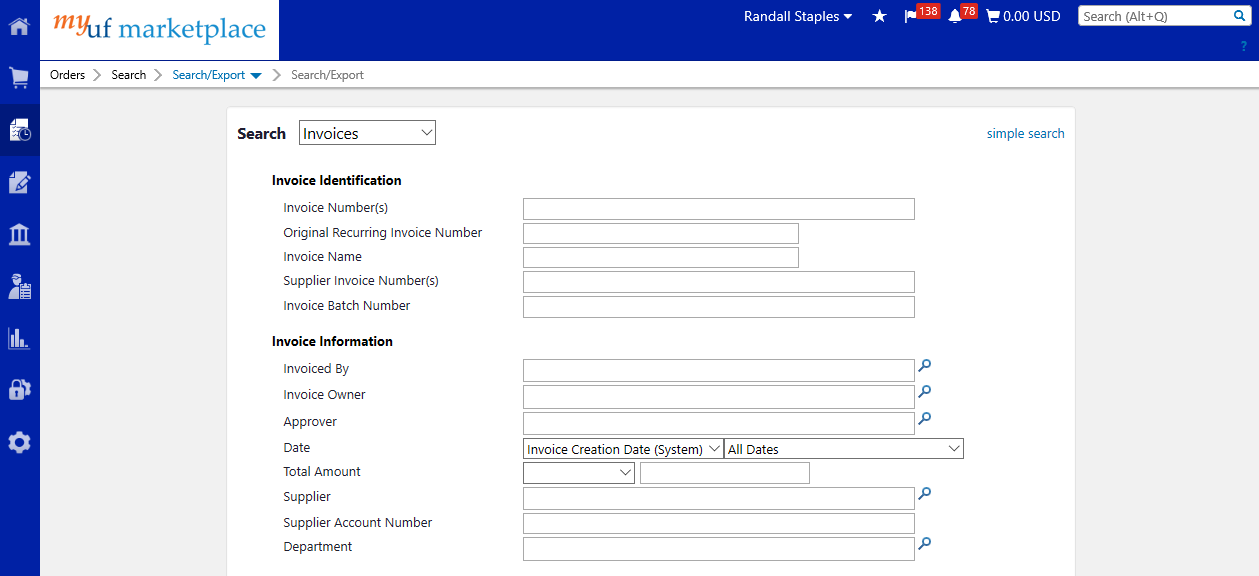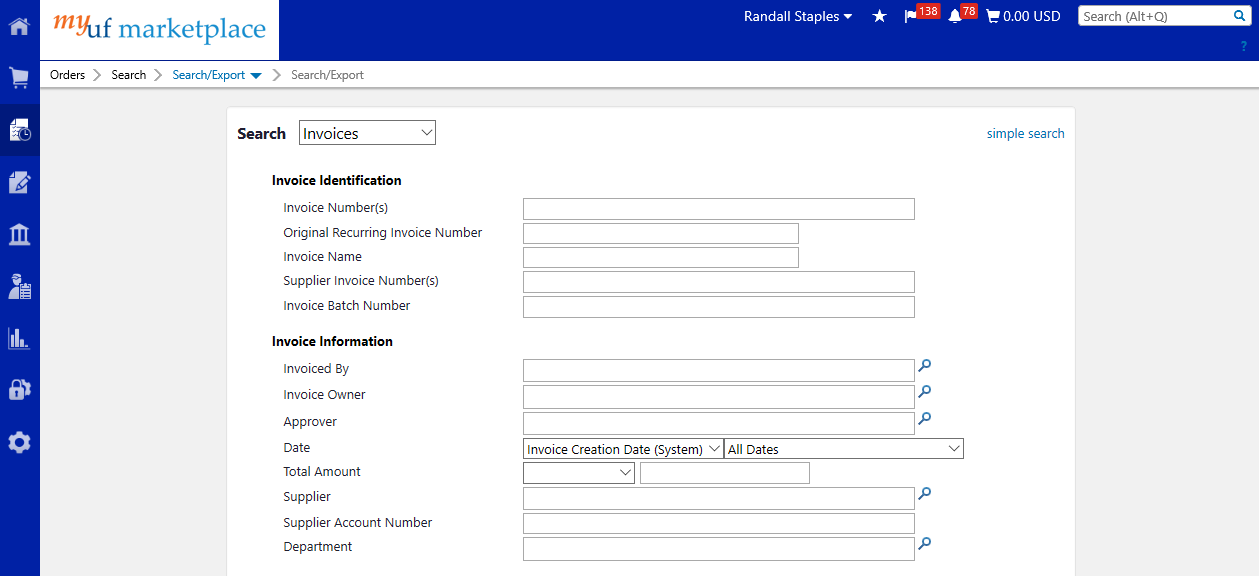 Definitions
Department Security Administrator (DSA)
This is the position designated to coordinate access requests to University's systems at the Dept ID level.
Voucher
A voucher is an online request for payment that holds PO/invoice information and creates a payment schedule.
Last Reviewed
05/01/2020: reviewed content
Resources
Toolkits
UF HR Toolkit – Paying Suppliers
UF HR Toolkit – myUFMarketplace
Contacts
Disbursements: (352) 392-1241
PCard: (352) 392-1331
Still have a question?