Updated Reporting Tools
Updated Reporting Tools
Enterprise Analytics
Welcome to Enterprise Analytics! The University of Florida utilizes Enterprise Analytics, powered by Cognos 11, a web‐based reporting solution for creating and running reports that includes financials, human resources, sponsored projects and student information data. The data in Enterprise Analytics is comprised of daily financial transactions and employee and student information data processed in myUFL.
Within Enterprise Analytics, there are a variety of tools available for users.  The graphic below provides a guide to the best tool for you based on how you use the data.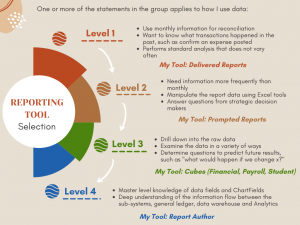 Introductory Enterprise Analytics User Guide
A guide for users on how to run and think about reports in Enterprise Analytics.
Introductory Enterprise Analytics User Guide
Analysis Studio (Dynamic Cubes)
Users of financial, payroll or student cubes will now use Analysis Studio (Dynamic Cubes) located inside Enterprise Analytics in their appropriate folders (Financial, Human Resources, etc.).
Analysis Studio Quick Start Guide (FIT Cubes only)
Additional Resources
Enterprise Analytics Microsoft Team:
Open labs and trainings are now available in Microsoft Teams to help you maximize the impact that Enterprise Analytics can have on your work!
By joining the Team, you join a community of practice and access the latest trainings/communications surrounding Enterprise Analytics.
Sessions Include:
New User Session/Navigation Overview – If you are new to EA, join the February 9th session. We will record and post into the Team.
Analysis Studio Workshops – This workshop is intended for experienced FIT Cube users. The workshop will provide learners with a fast-paced overview of the new Analysis Studio interface and how to complete basic tasks such as searching for data, adding data to the report layout, creating new views, and running drill-through reports. A portion of the workshop will provide learners time to recreate their personal FIT Cube views with the new Analysis Studio interface in Enterprise Analytics.
Workshops will be held once a semester, beginning in April 2022. Day/Time information will be posted later in the Microsoft Team.
Open Labs – Once a semester, Reporting Services and a partnering core office will host a featured topic training alongside our traditional open lab. Participants will experience a more formal guided conversation for the first half of this training. In the second half, they will have an opportunity to ask specific questions surrounding any delivered or prompted reports.
The first session will be in March 2022. Day/Time information will be posted later in the Microsoft Team.
Other Guides
Enterprise Analytics – MFR Quick Guide provides helpful tips on how to access the reports. Reports prior to April 2021 will not contain links to source documents. Note: To access financial OnBase source documents, please verify that you have myUFL Security Role: UF_FI_UNIVERSAL_INQUIRY.
Fund 143 Monthly Financial Reporting Guide explains the change in formatting to support project numbers as of October 2021.
Toolkits
Last Reviewed
03/31/2023: Reviewed content
Contacts
Questions about Enterprise Analytics & Reporting:  Reporting-Services@ufl.edu
Questions about this website: controller-office@ad.ufl.edu