Per Diem
Per Diem
Directive Statement
The University of Florida's per diem rate is up to $80 per day ($20 per quarter) for both foreign and domestic travel.  Per Diem is paid in lieu of meals and lodging.
The quarters are as follows:
1st quarter starts @ 12:00 a.m.
2nd quarter starts @ 6:00 a.m.
3rd quarter starts @ 12:00 p.m.
4th quarter starts @ 6:00 p.m.
If the traveler is in any portion of that quarter they will receive that quarterly allowance of $20.
Travelers are allowed up to 1 day on domestic travel and 2 days on foreign travel to reach destination and return from destination if needed.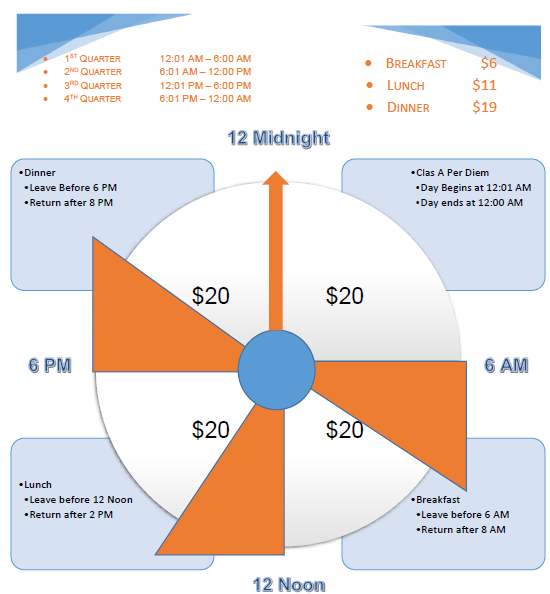 Reason for Directive
In certain cases, it may not be practical or possible to establish actual reimbursable expenses for lodging and/or meals. In such cases, a per diem charge in lieu of actual expenses may be reimbursed.
Per diem reimbursement for these expenses is the payment to the traveler of a fixed amount per day to cover the cost of lodging and/or meals.
Who must comply?
All UF departments.
Per Diem Allowance (in lieu of actual expenditures)
With a per diem allowance, the traveler is not required to provide documentation and an itemization of actual lodging.
Meals and/or lodging may not be claimed in combination with per diem.  All meals provided to the traveler must be deducted from the per diem rate of $80 per day.
Last Reviewed
03/31/2023: reviewed content
Toolkits
UF HR Toolkit – Travel and Expense Module
Contacts
Travel & Employee Reimbursements: (352) 392-1241
Still have a question?