Meals
Meals
Directive Statement
The state agency rate is required to be used for reimbursing travel related meal expenses.  The State of Florida reimbursement rates for meals on UF domestic travel (all 50 states and U.S. Territories) are as follows:
Breakfast: $6
Lunch: $11
Dinner: $19
Total per day: $36
No one, whether traveling out of state or in state, shall be reimbursed for any meal or lodging included in a workshop, convention or conference registration fee.
Travelers cannot make an allowance for meals when travel is confined to the city or town of the official headquarters or immediate vicinity (50 miles).  The University of Florida does not reimburse for Class C travel meals.
Travelers are allowed up to 1 day on domestic travel and 2 days on foreign travel to reach destination and return from destination if needed.
Reason for Directive
Expenses for meals are reimbursed, as explained below.  This provides guidance on meal reimbursement allowance per State Statutes 112.061.
Who must comply?
All UF departments.
Meal Allowance
Calculate the allowance for meals each day based on the following:
Breakfast – When travel begins before 6 a.m. and extends beyond 8 a.m.
Lunch – When travel begins before 12 noon and extends beyond 2 p.m.
Dinner – When travel begins before 6 p.m. and extends beyond 8 p.m.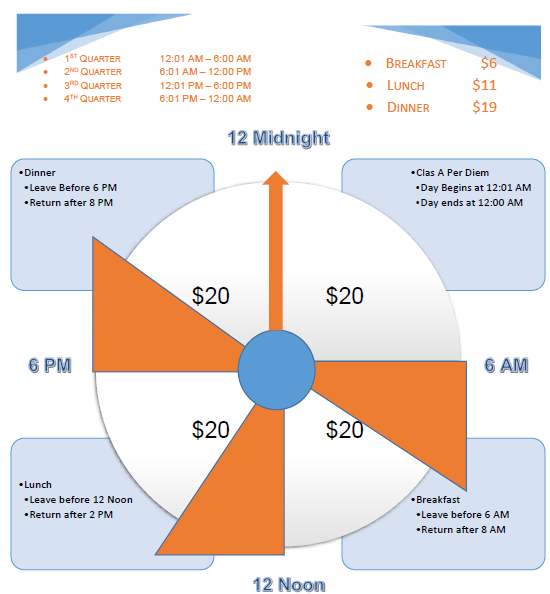 Procedures
Determine the meal allowance for each day using the criteria above
Review the agenda/registration (if applicable) to determine any meals included in the cost of registration

Any meals included in the cost of registration must be deducted from the meal allowance for that day

Follow the steps in the UF HR Toolkit – Create an Expense Report
Please note, receipts are not required for meals, as the state rates are used instead of actual cost.
Last Reviewed
03/31/2023: reviewed content
Toolkits
UF HR Toolkit – Travel and Expense Module
Contacts
Travel & Employee Reimbursements: (352) 392-1241
Still have a question?